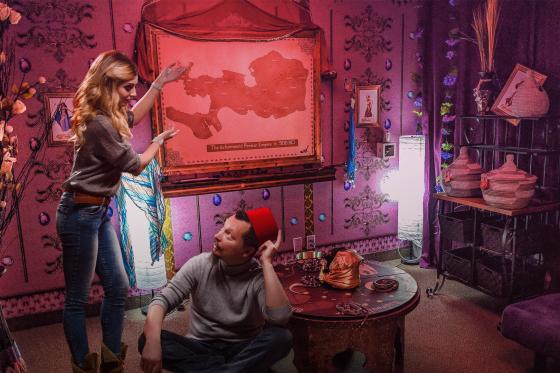 THE ESCAPE HOUR CALGARY
What is an escape room?
Is it one of those days when you are with your squad wanting to do something interesting but ran out of choices? Well, you can try 'An escape room.' An escape room is a real-life game for two or more than two people where you and your friends' team up to solve puzzles and other tasks to escape from locked rooms.
In most cases, there is a background story in the game, and you and your team play as the protagonists. It is a time-based theme game and an adventurous one. Throughout the world, there are more than 3500 such locked rooms, and you can easily one near you in Calgary too.
The escape hour in Calgary
Calgary, a metropolitan in Canada, is a base for one of the best-locked rooms in the world. The Escape Hour, as the name suggests, is an escape room game where the players are given an hour to solve a series of logic puzzles, look for clues and finally solve the mystery. It is a European based Company who started this game in Canada with their first location at Winnipeg and second being Calgary.
The Escape Hour in Calgary offers you with unique escape rooms where two to ten people of your gang can play uninterruptedly. The themes of the rooms are quite varied and surely attractive. Some original themes include The Lost Jewel of Zanzibar, Prohibition-The Lucky Duck, The Curse of the Evil Genie and Cypherspace. These rooms are filled with hidden objects, information, riddles, etc.
You are supposed to take the help of these and unlock yourself from the rooms within 60 minutes. These locked rooms are far from the video games that you play isolated, only with yourself. You being smart are not enough to crack this game.
The most important key to solve this escape room is team spirit. You have to work your way out with your team members. Communication is a necessity. The minimum number of people allowed in a room is two, and the maximum goes up to 10.
One of the good things about Escape Hour rooms at Calgary is that they do not cram people together. If you want to play with only 2-3 members, you are allowed to do so. They are very customer friendly and aim for the enjoyment of the players throughout.
Is it worth it?
The best part about The Escape Hour in Calgary is the presence of the Game Master. These rooms are quite challenging. Hence the players are provided with Game Masters to their help the whole way.
The Game Master doesn't physically enter the room with you but interacts through the monitor, which also shows the time.
In case you want to leave the room before completing it, they help you move out smoothly along with giving away the answers. The Escape Hour Calgary asks you to expect the unexpected and promises extra ordinary rooms which will blow your mind. They say that once you enter the game, it seems like a simple room. But after you start playing it, with every minute the complexity increases, which eventually leads you closer to solving the room.
This Escape Room has quickly gained popularity and positive reviews since they are so customer friendly. Before entering the room, you are briefed about your objective, and also a similar video is played to set your mood.
Once you complete the game, you can click photos with a lot of props that they provide you with. This helps you to capture the time and make it a lifelong memory. You can book your rooms online through their website and pay using PayPal. So, go ahead and try 'The Escape Hour Calgary.' I promise you won't be disappointed.