5 Ways To Have a Good Time With Your Friends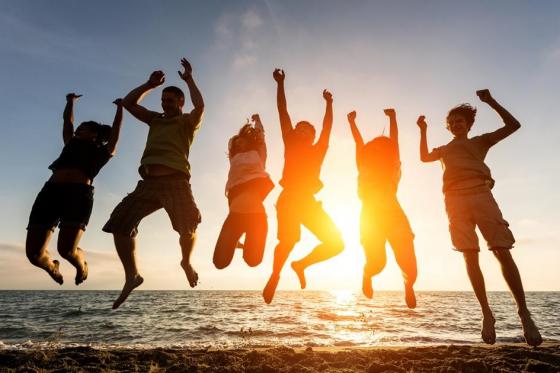 Having a good time with friends is the most wonderful feeling in the world. Although, sometimes you need to be creative to get this feeling. This precious time with those who you care most is truly valuable and in order to keep it always positive and never boring you need to come up with fresh ideas for new locations of fun places to be. So here are 5 great ways to have fun with friends which we are offering you to include into your month agenda. Let's see what we have there.
Volunteering
Volunteering might not be the most common option for those who make plans on what to do on a weekend with friends. That option is surely not the first one to cross your mind when you are thinking about what kind of activities you could do all together. However, we would recommend you to give it a try. You will be surprised with how fun it actually can be and how great it feels afterward.
Of course, we all know how volunteering is important but usually, we feel like we don't have enough time to contribute or actually we are not motivated enough to start. But that's why you need to start volunteering as one of your regular activities with friends. Just one weekend in a month time go as a volunteer to the senior center or orphanage and help to organize there a dance night, or just play board games altogether. And who knows, maybe you'll even gain a new friend?
There can be plenty of different areas for volunteering such as:
animal welfare;
cultural heritage;
disabled;
children;
charity money raising events, etc.
You can have a great time with your close friends and at the same time spend it in the most magical manner ever. So, if you want to change a bit your usual routine where you stick to regular Saturday brunches and traditional happy hours in order to have some time together, why not to try volunteering?
Working out
The next way to have some fun times with friends is working out in a group. To look at friends spending time together while they are taking care of their health and bodies is really admiring. Not many are ready to share those not the easiest moments of the training session with people of their surroundings. Sometimes you feel vulnerable in a gym, sometimes you fail. Or you just don't look the way your friends used to see you.
But we believe that working out together can be actually a very bonding activity. Just don't choose a workout you literally have to force yourself to do. Like, don't go jogging if you hate running. Don't turn your workout session into the worst two hours of a day. No way. Instead of it, try to find some activities you actually like and can enjoy and so invite your friends to join you to share this new positive experience. Also, it's a nice opportunity to gain a new hobby which can be only yours. Try climbing, yoga, tennis, anything you can think of and find an activity that suits both of you.
Having a movie night
We guess by now you already might have a question like how to have fun with friends on the days when you even don't really want to leave the house. Well, the fact that you want to spend your evening in the pajamas on your couch is totally acceptable. But who said that this should stop you from spending great time with friends at the same time. Just invite them over to your place and make a movie night.
Nothing can be easier. You might go with the specific theme for the night, like watching only French movies, or movies from the 90s, or pick a mutual favorite actor/director and create a night-tribute of his or her work. It can be a night where you rewatch your own short movies and videos you filmed through your friendship timeline. Just get a lot of popcorn and your favorite snacks, hop into pajamas and enjoy yourselves. Who said you need to go out to have fun with friends?
Playing escape room games
When it feels like you and your besties have already been everywhere in your city and tried all the possible activities, you have a logical question «is there a place you have never been before to?». Fortunately, there is a «hidden» treasure placed in Calgary called escape rooms games.
Just imagine this, a group of friends locked for exactly one hour inside a single room full of mystery, riddles, puzzles and surprising twists of the plot. You will need to find all the clues and to solve all of the riddles (and there gonna be a lot) to get out of the room as a group of winners and not the opposite. Although defeating such escape rooms can be really challenging, you will be privileged because of the one simple reason — your friendship.
There is no better way to build a stronger connection and create a better mutual understanding than having one common goal. Especially when you need to complete this goal in such an untypical manner according to very strict timelines.
Visiting panels
And finally, our number five for those who are also interested in how to pass free time by not just having fun but actually spending a free time as useful as possible. Those who don't like the feeling like they have spent the time absolutely uselessly need to have a break from stand art coffee breaks with friends and to move those meetings into a new location.
Just open the news page of your hometown and check what kind of conversation panels you have next weekends, or what exhibitions are now set in the galleries. Get the tickets and surprise your friends with a new event. Obviously, self-educating is an important part of our lives.
But what's even greater is to share this new experience and newly obtained knowledge with those who move through life beside us. So doesn't matter if it is a TED Talks, some public debates on a topic you are genuinely interested (or maybe always wanted to learn) or if it is a new exhibition in the history museum.
Wrapping up
As we see there is no single best way to spend time with your friends. Although, there are lots of option to try and to come with the ideal activity where you all, as a group, will have maximum fun and pleasure.