8 Fun Places to Go With Your Friends in Calgary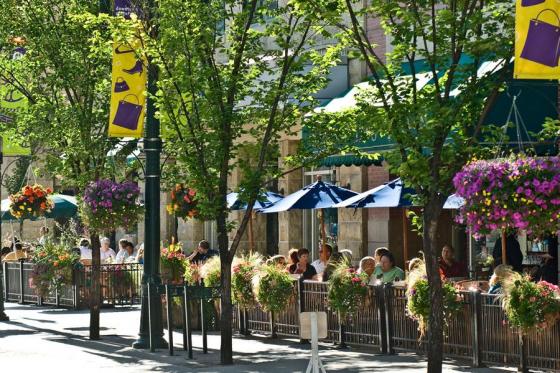 Located in Alberta, Calgary is Canada's third greatest municipality. It is a great place to have quality time with friends. Calgary is the second largest city in Alberta, with a population of 1.414 million people. It is a multicultural cosmopolitan. And it is close to the Rocky Mountains and the Bow River.
Moreover, this fun city has so many interesting places where you can take part in, enjoying the activities with friends. You can visit these places with your friends. And you can also check out an escape room in Calgary for an unforgettable experience.
So, What Are Top Places to Visit in Calgary?
Looking for where to go with your friends in Calgary? Thinking of what to do on the weekend with friends? Here are some tips on how to have fun with friends while you are in Calgary. Visiting these places is one of the ways to have fun with friends.
1. Calgary Tower
Calgary Tower is one of the iconic landmarks of Calgary. This free-standing observatory is 190.8 meters tall. It is located in Downtown Calgary. The tower offers the best view of the city. From the observatory deck, you have a bird's eye view of the downtown. From this tower, you can also see Rocky mountains.
Calgary tower also features two restaurants, the Sky 360 and Ruth's Chris Steakhouse. The restaurants have a full revolution. The cost of entering Calgary tower is $18 for people 13-64 years old. It is free for children under the age of 3 years.
2. Escape room games
If you are looking for something more adventurous, then you can visit an escape room game. These games are filled with riddles and puzzles. Escape rooms give you and your friends the best interactive experience.
Calgary's escape room has so many exciting adventures that you can try out with your friends. Each challenge pushes your limits and enhances team building. Escape hour has so many themes difficulty levels to choose from. You can complete a puzzle with the help of a teammate.
The key feature of playing escape rooms is that you learn how to communicate with other people. Usually, you will get a clue to help you solve some tricks. The cost of visiting an escape room is $24.99 per person.
3. Heritage Park Historical Village
Heritage Park is a living museum which features Canadian history. It has more than 180 exhibitions. The buildings in this park are from the mid 19th to the 20th century.
Heritage Park is located on 127 acres of parkland, on Calgary's southwestern edge. Most of the buildings in Heritage Park were recreated. Some of the buildings were transported from historical sites to the park.
When you enter this park, you get a sense of what life back then was like. You get to see antique automobiles as well as historical costumes.
General admission into the park costs less than $10. But, this rate has a seasonal variation. Here, fun activities include:
Riding steam trains,
Antique games,
Western cuisine,
Antique boutiques.
4. Military Museum
Calgary military museum is the second largest in Canada. Here you can see art exhibits from across the world. Experience the stories of victory and sacrifice that the Canadian armed forces have encountered.
The military museum also has the Founder's gallery. You can also visit the Military Library and Archive. The admission rate for adults is $15 while seniors, students, and youths are charged $5. Children from 7 years and below can enter this museum for free.
5. Glenbow Museum
The Glenbow Museum is an art and historical museum. The main goal is to make sure that people get to experience life through art and culture. World-renowned exhibitions are also available year-round. Most of the exhibitions focus on the history of the north-west of America and Alberta.
Admission tickets cost $18 for adults, $11 for students, and seniors. It is $10 for people between the age of 7 and 17, and free for children under the age of 6 years.
6. National Music Center
Located in Calgary's east village, the national music center is a place to visit if you love music. Here you can find more than 2,000 music instruments. The National Music Center also showcases some of the rarest musical instruments.
You can discover both new and old sounds that tell the history of Canadian music with friends. Visiting this music center is a way of having a good time with friends. The admission rate for adults is $18. Seniors and youths pay $14 and $11 respectively. It is free for children 3 years and below.
7. Fort Calgary
Built in 1875, Fort Calgary has various historical displays that are very interesting. The fort was built to preserve the history and heritage of Calgary. It is found at the confluence of two rivers, the Bow and Elders Rivers. In fact, it is the birthplace of what is now Calgary.
You can take tours of the area surrounding the fort. You and friends can also take part in exciting interactive displays. This is a way of spending a great time with friends. The admission fee is $12 for adults, seniors and students pay $11, youths (7-17) pay $7 and children pay $5.
8. Sports hall of fame
Located in the Olympic Park, Canada's sports hall of fame is another great place to visit. Here you can find the most memorable moments and stories of Canadian sportsmen. This park also has interactive activities for you and your friends. Fun activities include:
Shadowboxing,
3D hockey,
3D baseball,
Wheelchair racing,
Rowing.
While the admission for children less than 3 years old is free, adults have to pay $12. Seniors have to pay $10 and children between 4 and 18 pay $8.
In conclusion, it's a great city to explore the fun and exciting places with a group of friends while you are visiting Alberta. For sure, you will have fun times with friends, and amazing experiences that will last you a lifetime.