10 Best Things to Do in Calgary this Spring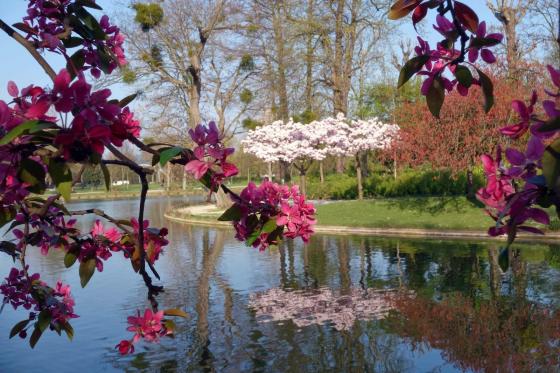 Calgary is a beautiful city, everyone who has ever been here can agree on that. In spring, it becomes even better awakening from the long winter sleep. Streets become warmer and sunnier, inviting everyone to spend more time outside and enjoy a variety of outdoor activities.
However, we suggest balancing outdoor and indoor stuff in order to make life more diverse. Sometimes it gets difficult to find fun activities while you live in a particular city for a while. It seems like you have tried everything, and nothing looks fresh to your eye. In the meantime, travelers can face another problem. They know too little about the city to have any clear ideas about what to do and where to go.
Here we have 10 things to do in Calgary this spring that are suitable for any taste and wallet. They can be used as hints for both Calgary citizens and travelers who are just visiting for some time. These spring adventures will definitely bring you good mood and exciting memories to share with your loved ones.
1. Fort Calgary Interpretive Centre
It is a small museum dedicated to Calgary's early history. It is an absolute must for those who live in Calgary to know how the city developed and grew over time. It is also interesting for travelers as it allows to get a better idea about the city. The great advantage of this place is that it is appealing to both adults and children which makes it one of the best spring attractions for families. Adults pay $27 per person, kids from 5 to 12 - $7, 4 and under may enter for free. The cost includes Sunday Brunch that is especially loved by children but is also quite delicious for adults. Come visit this place and your will have a lovely time.
2. Canmore Festival
Canmore Uncorked is an annual festival representing all the kinds of food and drinks. It takes place in Canmore in the beginning of May and lasts for about a week. There are many interesting events going on, and there is plenty of food to cover any taste. So, it is very very important to arrive hungry. Really hungry! There are many fun tastings that are free of charge; other tastings are also quite affordable ranging between $5 and $15. Don't miss your opportunity to taste something new (actually, plenty new things!). As for the events, one of the most well-known is the musical Bistro Tour and the amazing Big Brunch. Note that they require tickets, so you might want to get ready in advance.
3. Unforgettable experience at the Escape Hour
Most people like playing video games, but here is a great alternative - real-life escape games that are designed as a true challenge for the players! It is 100% safe and even more exciting as you just dive into an engaging scenario. Not only you enjoy the storyline, but also participate and write your own story by finding clues and solving puzzles. You can even make it a competition with another team playing the same room! Try these rooms for a guaranteed satisfaction:
The lost jewel of Zanzibar;

The curse of the evil Genie;

Prohibition – the Lucky Duck;

Cypherspace.
4. Devonian Gardens
Beautiful place where adults can relax and kids can climb the wall and enjoy the playground. This place is in a downtown location and is easily accessible by C-train. Consider grabbing some to-go lunch from the nearby food court to enjoy it under the gentle spring sun. You might also have some good pictures from the place if you've got the camera.
5. Treehouse Indoor Playground
It is a perfect place to spend a weekend with kids. There are dozens of options for kids to have fun such as arcade room, bouncy castle, x-bow zone, interactive mats, huge climber, backyard blaster, climbing wall, and wiggle car race track. For the parents, there is also a huge benefit there as they can simply relax and enjoy their kids having fun in a safe way. Don't forget to grab socks as they are required for all the visitors! Prices vary depending on the day of the week and number of people but are generally quite nice.
6. Geocaching
There are many places in Calgary that can be explored as a part of spring activities. To make it even more exciting you can download and install the Geocaching app and pretend to have a real treasure hunt. This app is all about finding the caches that other people have hidden in the different parts of the city with the help of GPS. The only thing you need is your smartphone. And also, comfortable shoes for long-distance walks. It is a great way of exploring the city and its surroundings such as:
Confederation Park;

Nose Hill;

Fish Creek Park;

Bowness Park;

12 Mile Coulee;

Edworthy Park.
7. The Calgary Zoo
The Zoo is also on the list of fun thing this spring season. There are both indoor and outdoor exhibits, so even if the weather is not perfect you will be able to see interesting stuff. More to that, the colder it is the fewer people there are. So, in case of a chilly spring, you still might want to stop by and say hi to local animals. No matter how old you are, Calgary zoo is a nice place for a visit.
8. Chinese Cultural Centre Museum
It is called the Chinese Artifacts Museum. Not only you can learn more about local Chinese community here, but also see Chinese replicas and artifacts that have real historical value. The cost of visiting is moderate - $5 for adults and $3 for children. Not too much for such a nice cultural excursion.
9. Local spring markets
Calgary is a place with great ecology, so the quality of local produce is something worth trying. Almost every weekend you will be able to find some spring market where you can enjoy shopping as well as arts and crafts and local vendors offers. For example, on May the Alberta Dames Modern Vintage Market will take place at Crossfield Community Centre. The admission fee for adults is only $5, which is only a token of support to those who organize the event. The portion of proceeds goes to Quinn's Legacy.
10. Calgary Airport
The last but not least in our list of places to go on spring holiday is the Calgary Airport. It has amazing attractions for both adults and kids. First of all, all the airplanes that can be seen from different spots. Secondly, the Spaceport where everyone interested in NASA space programs can get a lot of interesting material.
We hope this list will help you enjoy fun spring events and interesting locations. And we look forward to meeting you at the Escape Hour where we are working hard on making your experience with our games absolutely unforgettable!